We've refreshed our designer color themes for all your upcoming event invites.
Our new palette of rich autumn and winter color themes is designed to perfectly complement online invitations for the holiday season. Color themes are included with every Poply Premium invitation – use them along with photos or videos to customize your event invite and make a design that is uniquely yours.  
Here are a few of our favorite ways to match these new colors with seasonal events in our online invitation maker. And as a bonus, we're including an adorable birthday invitation since those happen year-round!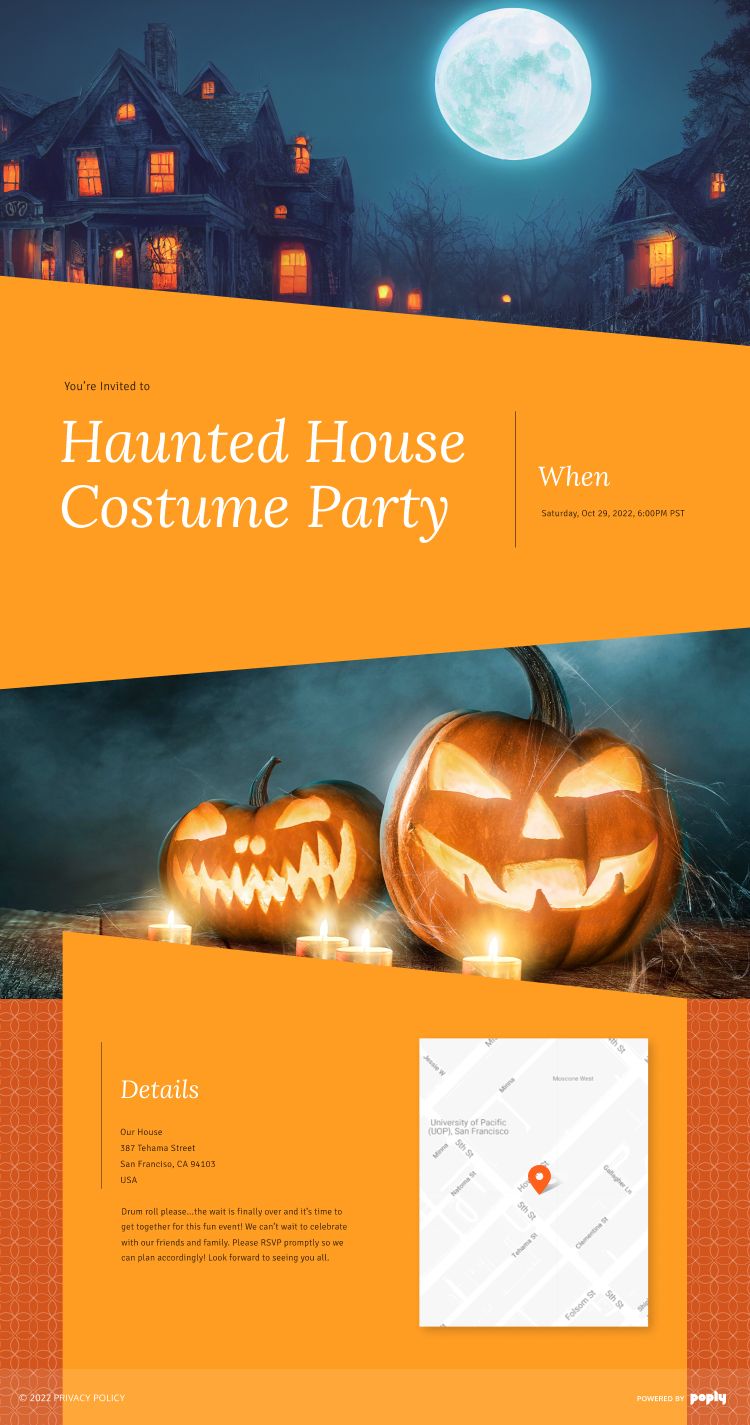 Halloween Costume Party with Juicy Orange Theme
We've kept this summer's Juicy Orange theme in our line-up a little bit longer because it is perfect for Halloween party invites! The bright jack-o-lantern colors beautifully set off spooky pics from our free gallery of photos. Use it for costume parties, organizing trick-or-treating, a scary movie night with friends, or Day of the Dead (Día de los Muertos) celebrations.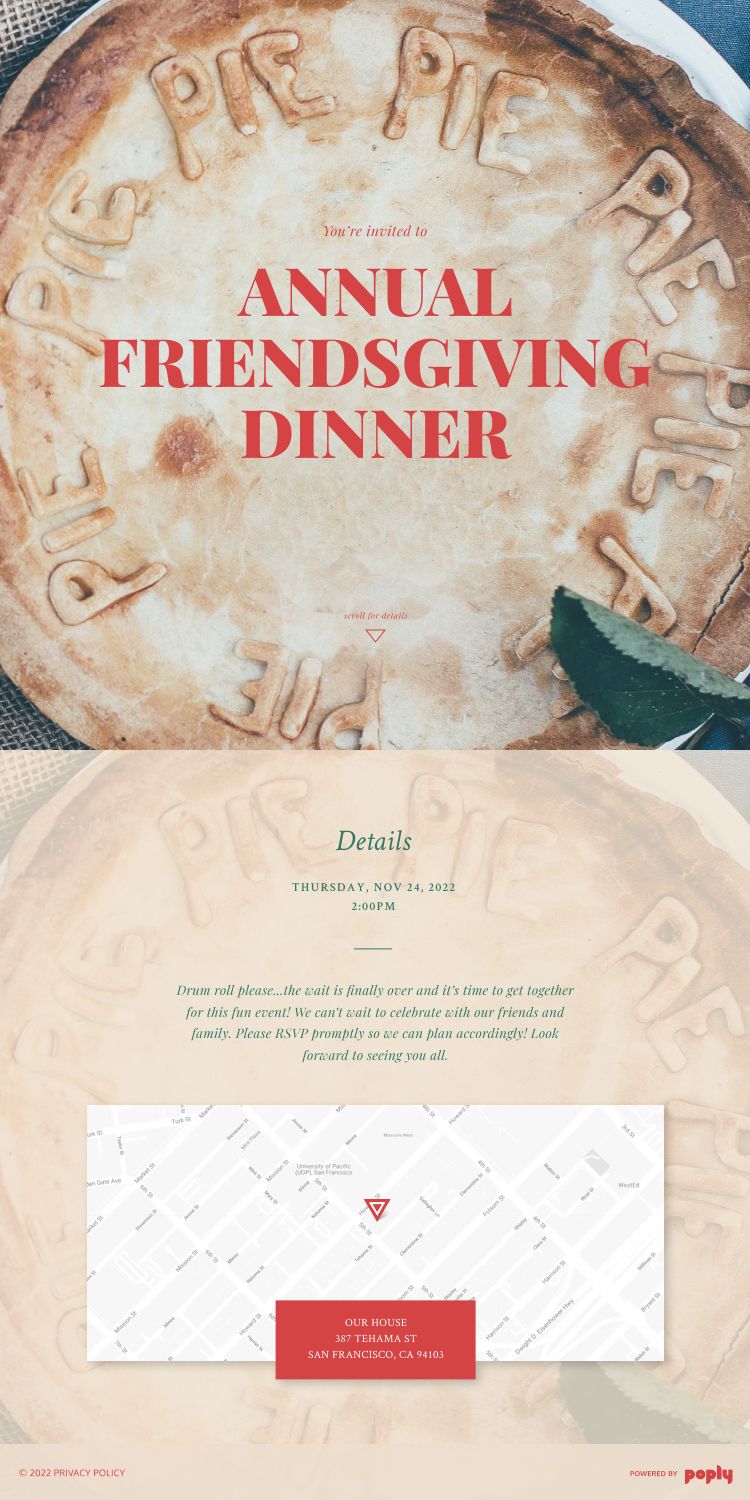 Friendsgiving with Cranberry Theme
Gather your pals for a Friendsgiving feast! Our new red and cream Cranberry theme is reminiscent of...well...cranberries. Post a link to this paperless (aka: eco-friendly) online invite to your group chat and everyone can RSVP with just a few clicks. Easy as pie! These colors are also perfect for Christmas invites and will work equally well for Valentine's or Galentine's Day events.

Hannukah Party with Snowy Evening Theme
The new Snowy Evening theme is tailor-made for Hanukkah party invitations. Add your personal photos to see how they'll pop against the black background and blue highlights. In addition to Hanukkah parties, use this theme with Poply's invitation maker for fabulous sledding and ice skating parties, ski weekends, or any other wintery activities.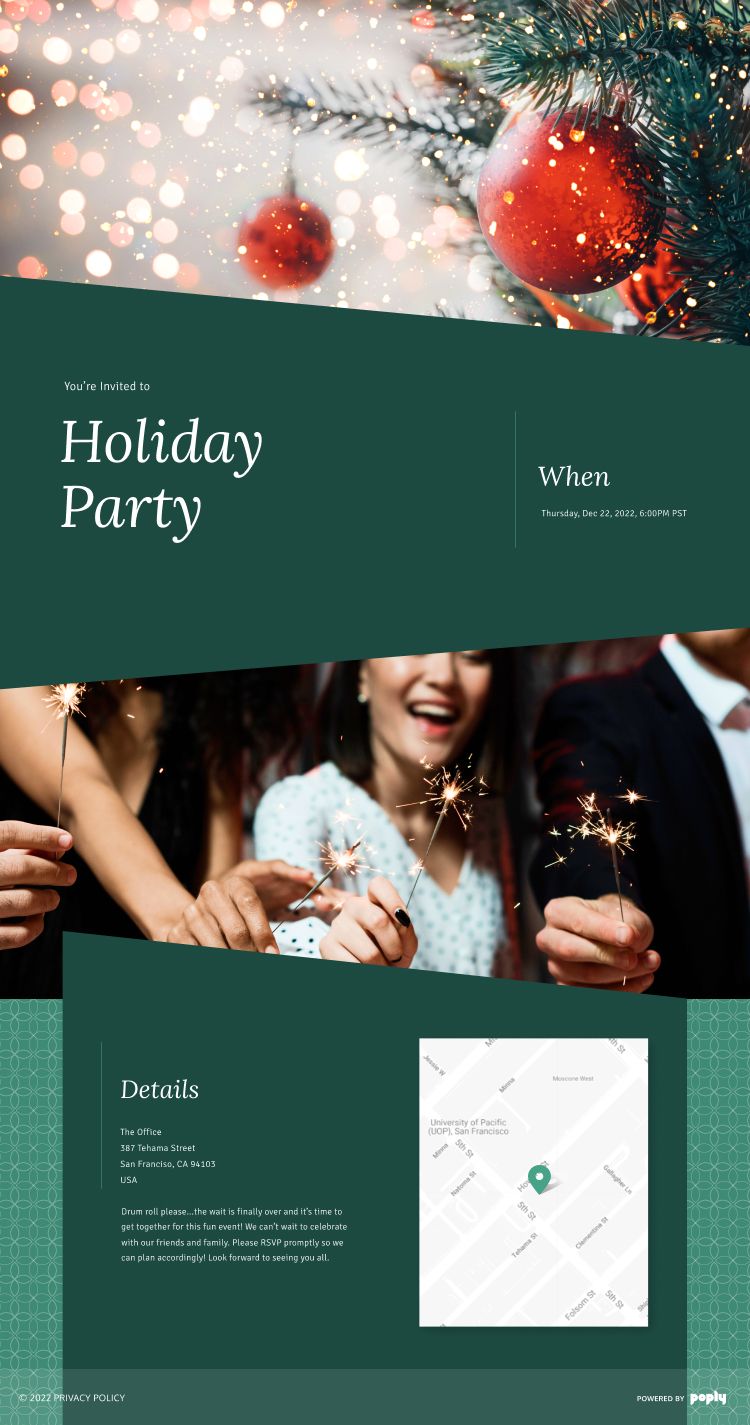 Holiday Party with Evergreen Theme
The Evergreen theme was made with Christmas parties in mind! The deep green colors are suitable for elegant office holiday parties, cookie exchanges, or cozy family gatherings.  Start your invite with any of our free templates and customize it with this theme when you make your invitation premium. Gather guest contacts from your phone with our super-easy import feature and send your online invite off via text or email – or a combination of the two!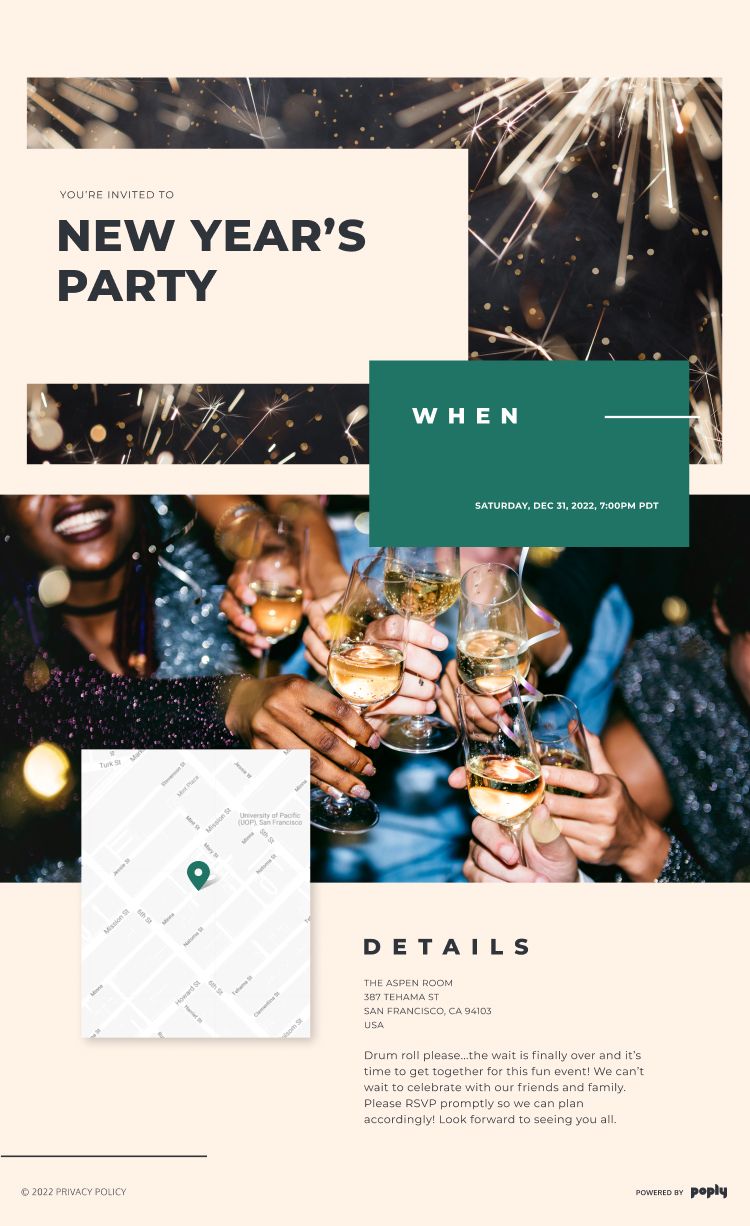 New Year's Eve with Peach and Green Theme
Match your New Year's party invitation with this elegant peach and green color theme. No matter how many guests you invite, you'll be able to easily track RSVPs with our intuitive guest management tools and send party updates using our built-in messaging feature.

Quinceañera with Diva Theme
Though the holidays get all the attention in this season, birthdays happen year-round! Celebrate the big rites of passage like a quinceañera or sweet 16 party with a Poply Premium online invite. The bright pink and purple of our Diva Theme pop in your customized invite. Pair this theme with our Gallery Template which was designed to highlight portraits of the birthday girl on her special day.